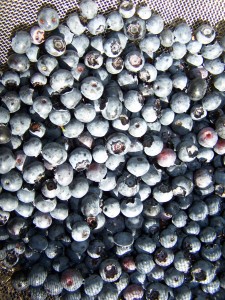 I spent a couple hours today harvesting organic blueberries at the local U-pick patch. Is there an organic blueberry farm near you? Now is the time to harvest a year's supply of blueberries and freeze them. Freezing actually makes them more nutritious as the cell walls break and more of the heart and blood vessel strengthening properties are released. My husband and I go through about 1 pint to 1 quart of blueberries per month and were able to harvest enough for a year in about 2 hours. It's good family fun, a little exercise, saves money and helps you connect with your food!
Did you know there is a whole website devoted to blueberries? Check out http://www.simply-blueberries.com/! Another great website, www.nutritondata.com, has this link to the nutrition information of the delicious blueberry.
Unsweetened blueberry juice is a great medicine to prevent and treat urinary tract infections from E. coli, the bug responsible for 90% of UTIs. It works just like cranberry juice and tastes much better. This is one of many treatments a naturopathic doctor may recommend to a patient with frequent UTIs.
In health,
Margaret Philhower, ND
www.drmargaret.org