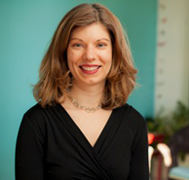 Dr. Emily Telfair earned her Doctorate of Naturopathic Medicine degree from Bastyr University in Seattle, Wash. She received her bachelor of science degree from the University of Dayton with a dual major in biology and psychology. Her Naturopathic Medical training included five years of intensive coursework and clinical experience in science-based natural medicine.
Using a Naturopathic approach first to pain management, Dr. Telfair first seeks to determine the root cause of her patients' pain, and then draws from a plethora of natural therapies to effectively relieve pain without all the undesired side effects.
Dr. Emily brings to her practice knowledge and training in:
Clinical nutrition
Lifestyle counseling
Homeopathy
Botanical medicine
Craniosacral therapy
She offers her patients a safe and comfortable space to explore their health holistically as a complement to the care they are receiving from their other medical doctors.
Dr. Telfair holds a license to practice Naturopathic Medicine in Washington State (Naturopathic licensure will be implemented in Maryland in March 2016), and a license to practice massage therapy in Maryland State.
In addition to her private practice, Dr. Emily volunteers at Joy Wellness Center which provides wellness services to uninsured individuals in Baltimore City in affiliation with Shepherd's Clinic. She is the president of the Maryland Association of Naturopathic Physicians (MDANP) and an active member of the American Association of Naturopathic Physicians (AANP) and the National Center for Homeopathy (NCH). The AANP honored Dr. Emily with the 2014 President's Award.
To support a balanced and joy-filled life, Dr. Telfair enjoys yoga, gardening, dancing, creative writing and connecting with friends and family.
Hear more from Dr. Telfair:
»Read her blog.
»Hear testimonials from some of her patients.
»Visit her clinic website Seeds Center for Whole Health.