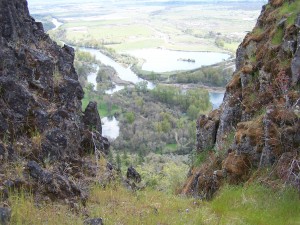 Last weekend, on the Rogue River here in southern Oregon, Agnes Baker Pilgrim of the Takelma tribe (aka "Grandma Aggie") prayed for the return of the salmon again this year.  Salmon are threatened in this area due to overfishing.  To follow up on last week's post about the health benefits of omega 3 rich fish, I am going to include 2 links about the salmon ceremony, Grandma Aggie and the 13 grandmothers.
I honor all people and all cultures and am especially interested in how people connect with the land they inhabit.  I think it is important to give thanks for the abundance of food we currently enjoy and to realize that if we don't respect the rivers and land, we may be in trouble.  Grandma Aggie helps us to stay connected and aware of the health of our rivers and salmon and I honor her for that.
The 13 grandmothers are amazing wise women who travel the world and visit with leaders of nations, religions and tribes to raise awareness about environmental and cultural issues threatening the survival of our planet and the human race.  There are ancient prophecies about them in many cultures and they are trying to save our world from what sometimes feels like the brink of disaster.  They are positive and funny in the entertaining way they share their mission with the world, but make no mistake- these wise women mean business.  It is wonderful to see the respect that these elders are receiving from dignitaries all over the world.
Check out the sacred salmon ceremony and the 13 grandmothers websites.  Let's honor these women for healing the earth and do what we can to ensure the survival of the salmon, the earth and ourselves.  One of my goals is to emphasize the NATURE in Naturopathic Medicine!
In my next post I'll get back to sharing some typical naturopathic cases so you can get a sense of what it is like to see a naturopathic doctor.  Until then, may the rivers run free and the salmon swim strongly and safely upstream.
Margaret Philhower, ND